Featured Bakes |
Online Cake Singapore
Indulge in the delicious treats at our cake shop! We are dedicated to elevating our baked creations for our customers in Singapore to enjoy. With an emphasis on innovation, our bakery offers a range of classic bakes, custom cakes, seasonal specialties, and special occasion cakes that are sure to satisfy your sweet tooth.
Our Customer Reviews
Suzie Begonia Mawkhlieng
2023-07-30
Everyone LOVED the cake & how it tasted. Thank You
Anuradha namal
2023-07-14
This is the second time ordering the cake from My Bake Studio. The cake was exactly what I asked for. Very good service and cake. Absolutely recommend.
OMG! I am so surprised by the cake, so nice!!!! They followed the cocomelon pic and came out with a fantastic fondant cocomelon. Thank you so much!!
Cake was so moist and the design was exactly as I wanted it. Extremely accurate to the inspo pictures as well. Super happy with it
Absolutely delighted that we chose My Bake Studio as the Pokémon themed cake became the centerpiece of my son's birthday celebrations! My boy super loved the cool design, while everyone enjoyed the delicious cake. Kudos to the team at My Bake Studio for their prompt response, attention to details and for delivering the superb cake. Thank you for giving my boy such a memorable and awesome birthday!
My birthday girl and our guests, all praised how nicely the cake was done, beautiful picture and cake texture just nice , not too dry inside. We all like it!
My sister customized an Astro boy cake for my birthday! I'm still in awe as it look so much like Astroboy. The details of the cake is just so beautifully done. Not only is the cake pretty , it was also yummy. The chocolate sweetness is just right and the cake is moist and soft, all my guests love it, suitable for kids and elderly too! Will definitely recommend my bake studio, infact, I have just placed a cake order for my friend upcoming birthday !
Thank you My Bake Studio for making this beautiful cake! Their response was very timely and it totally exceeded our expectations. The cake was delicious and yet not too sweet. 😋 The kids kept asking for more. Highly recommended! 👍👍 for the service again!
Aamita Baranwal
2023-03-12
Thanks for amazing cake n tasty delicious cake. As I wanted for daughter cake, u just gave me like that cake. Thanks a tons 🙏🏼🙏🏼💕💕💕💕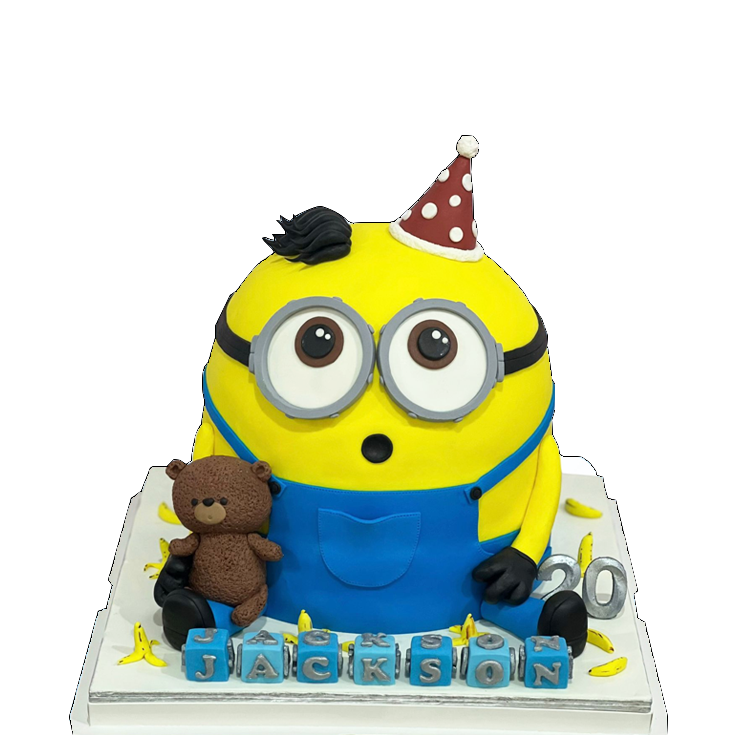 Indulge in the Sweetest Treats at the Leading Online Cake Shop
My Bake Studio is a leading online cake shop in Singapore. We offer the finest selection of delicious cakes, perfect for any occasion. With a focus on quality ingredients and expert craftsmanship, it is the go-to destination for anyone looking to indulge in sweet treats or customized cakes.

Unleash Your Creativity with Customisable Cakes in Singapore
Are you tired of the same old cake designs? Do you want to add a personal touch to your special events? Look no further than customizable cakes in Singapore with My Bake Studio.
With a wide range of options to choose from, the possibilities are endless. From unique shapes to custom decorations, you can make your cake as imaginative and one-of-a-kind as you desire. Whether it's a birthday party, wedding celebration, or any other special occasion, a customized cake will add a personal touch to the event and make it even more memorable.
Customize cakes
Online Cakes Singapore | Best Customised Cake
Our cake store offers customised cakes and cupcakes for all your special events. Choose from our selection to make your occasion even more memorable. Our cakes and cupcakes are ideal for birthdays, gender reveal parties, christenings, anniversaries, and more. Place your order now and enjoy our convenient online delivery service
Online delivery service